The Ministry of Education, under the advice of Dr. Bonnie Henry, the Provincial Health Officer, has closed schools to in-class instruction. Schools will continue to provide learning opportunities for students in a different and reduced manner.  Sangster teachers and staff will be using this week as a planning week, and will be in contact with their students and families soon.
Please visit the SD62 website for up to date information.
Take care and we look forward to connecting with you soon.
Due to the snow and ice on side streets and sidewalks, the Grade 5 Bottle Drive has been cancelled and will be rescheduled.  We're sorry for the inconvenience this has caused.
Please stay tuned for a new date.
Dear Parents/Guardians,
With the possibility of snow over the coming days, please take a look at our weather procedures. Schools remain open if at all possible, including during snowfalls. It is always up to you to decide whether or not to send your child to school during inclement weather.
Weather-Related Closures & Cancellations
For instant updates and information posts, please follow us on social media:
We will also post to the SD62 Website: http://www.sd62.bc.ca/
Thanks for taking the time to look through this,
SD62 Communications Team
From Monday, Nov. 25th until the morning of Friday, Dec. 6th, we will be collecting non-perishable items for the Goldstream Food Bank. On Friday, Dec 6th, a BC Transit bus, filled with Santa, Mrs. Claus and elves, will arrive in our parking lot and we will stuff it full of wonderful food items for those in our community who are struggling to feed themselves and their families. This is our fifth year being involved in this project, and it is a wonderful experience! Sangster families have been very generous in helping us fill up classrooms, the hallway and then the bus!
Thank you in advance for your contributions to our community!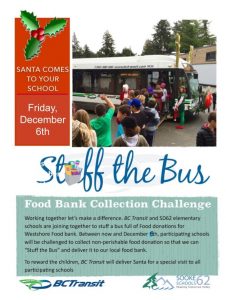 Dear Parents, Guardians and Families,
We would like to invite you to Sangster Elementary's Remembrance Day Ceremony tomorrow.  We invite you to join us in the gym at 10:30am as we honour the many men and women who have served, and who are currently serving our country.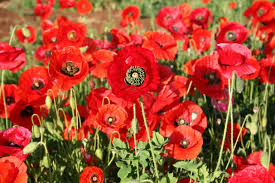 Our school is once again participating in Walk & Wheel to School Week starting this Monday, October 7th to celebrate and promote active travel.  Last year, our school had a record number of students participating and we are hoping to see the same participation this year.
Each day a student walks or wheels all or part way to school, they will receive a sticker to put on our school trip-tracking poster.  At the end of the week, we will send a picture of our poster to the CRD to share our active traveling habits.  The school will also have a chance to win prizes, such as the celebration station we won last year.
We realize that not everyone lives within walking distance of the school, however if driving, consider 'Drive to Five' – look for a convenient parking location with a safe 5 minute walking route to the school (it's good exercise and will also relieve some of the congestion in our parking lot).
The campaign is open to schools across the capital region to encourage and motivate students and their families to walk or wheel (bike, rollerblade, scoot, skateboard etc.) to school.  The CRD, Island Health and the CRD Traffic society collaborate to run and support this program.
Walk and Wheel TO school

Our first day of school is this Tuesday, September 3rd with an early dismissal at 11:53 am.
Wednesday is our beach day.  We have our lifeguards and are looking forward to spending the day at the beach!  Reminder to please return the permission form by Wednesday morning.
Our regular bell schedule for the year is:
8:40 am – Welcome Bell
8:45 am – Classes begin
10:15 – 10:30 am – Recess
11:55 am – 12:55 pm – Lunch Recess and Lunch
2:53 pm – Dismissal
Looking forward to seeing everyone this Tuesday.