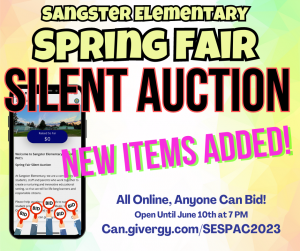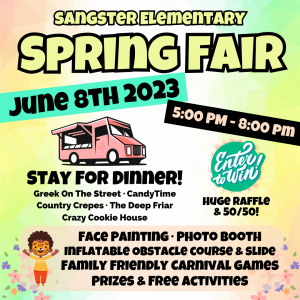 We are excited to once again be holding our Walk and Wheel to School Week this Monday-Friday. Even if students are unable to bike, scoot, or walk independently to school, we encourage families to choose a safe parking location 5 minutes away. Some ways to get involved:
Try "Move-it Monday" by walking, biking or scooting to school
Try the drive to 5. Choose a location 5-10 minute walk away to drive to, and then walk to school. Walking in the morning provides time for students to awaken their body and for families to have conversations on the way to school.
Please make sure to not park in Sangster Lane, the apartment building across the way, or the Bakery.    Our neighbours on Sangster Lane are having difficulty parking, and some people have even blocked driveways.  Please note, Sangster Lane is a private road and should not be used for parking.
Try a Walking/Biking Train from your neighbourhood. Make a plan with neighbours of times for kids and adults to walk to school together
Taking the bus is considered to be taking part in Walk and Wheel to School week
By decreasing the traffic before and after school, and parking in dedicated parking areas such as along side-roads or along the forest edges, we will be decreasing vehicle traffic along Metchosin Road and in our parking lot. This keeps everyone safer.
Cross Walk
Please remind your children about how to stay safe when crossing the road. Press the button if available, wait till all cars are stopped, make eye contact with stopped vehicles,  look left-right-left, and if a crossing guard is present wait until they signal to cross
School Zone
We invite parents and guardians to make signs next week and come out along the road, encouraging vehicles to slow down for our students, and drive safely past our school and through the playground zone.  We look forward to seeing some of you there!
Bring Your Bikes and Helmets
Reminder for Divisions 1-8.  Next week, your class will have a bike skills session.
Divisions 1-4 (Mrs. Arnott, Mrs. Lockerbie, Ms. Walker/Baker, and Mrs. Gervais) – These classes will have a in-class bike safety workshop on Monday, May 15th, and then will need to bring their bikes on Tuesday, May 16th. This workshop is completely sponsored by Capital Bikes!
Divisions 5-8 (Ms. Bakker, Ms. Grimwood, Mrs. Hutchison, and Ms. Lund) – PISE will be running their Bike Rodeo for these students and they will need to bring their bikes on Wednesday, May 17th. This Bike Rodeo is paid for by our Active School Travel Grant.
Sun Safety
Please make sure to put sunscreen on your child before school and at minimum send them to school with a hat and water bottle. We have a fill station at school where they can fill their water bottle up at any time.
Have a great weekend and enjoy the beautiful weather!