Notice of PAC Annual General Meeting Wed, May 12th, 2021
6:30 pm via MS Teams
Regular PAC Meeting to immediately follow.
The PAC Annual General Meeting and elections will take place on Wed, May 12th, 2021 at 6:30 pm. Please send in your nomination for any position to Meagan Bagnall prior to the meeting or just show up and surprise us!    MeaganBagnall@gmail.com
I would like to take some time to communicate to the Sangster community the situation our school PAC is facing heading into the next school year.
All of the positions are open each year, however several members of this years PAC are either stepping down or leaving Sangster. These positions include; fundraising, vice-president, president and the glue of all PAC's the treasurer's role. If we do not fill the Treasurer position, the PAC will not be able to function and will have to be suspended.  We must have at the very least, a President, Treasurer, & Secretary.
You might not be aware of just how many things we take for granted in our schools that are paid for with PAC money.  Without a functioning PAC these enhancements to our children's education will not take place.
Here are just a few examples of what an important role the funds raised by the PAC provides to our school.
All field trips that cost money are funded by the PAC (busses, admission)
Most cultural events brought into the school are funded by the PAC. (Theatre groups, musicians, authors, dancers etc.)
Classroom support for your teacher, (think supplies for science experiments, art projects etc.)
Swim Club is funded by the PAC
Science Venture is funded by the PAC
The fun events put on by the PAC, the Valentine Dance, Spring Fair, Christmas Store etc….
We appreciate people are busy with work, home and their kid's extracurricular activities. We all understand because we too have those same commitments. Many members of our Sangster PAC work full-time, coach sports teams and Girl Guides and a host of other wonderful activities. If you can spare 1-2 hours per month to attend a meeting, I encourage you to consider coming out for the PAC.
If you have any questions about the further role PAC has as part of a school, or would like to know about any of the positions, please feel free to reach out.
Tracy Fontaine
(current) PAC president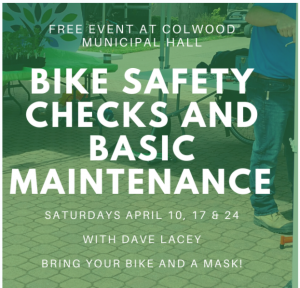 For more information: https://www.colwood.ca/news-events/community-calendar/event/get-free-bike-safety-check-and-basic-tune-colwood-city-hall
Dear Parents/Guardians,
During an announcement this past Monday by Dr. Bonnie Henry, new health and safety guidelines and regulations for schools were released. This update to the health and safety measures is being introduced as an extra layer of protection in response to recent increases in COVID-19 cases across the province, including Vancouver Island. Read the full release here. A summary of the changes is provided below.  We are currently updating our School Safety Plans and these updates will be available on our District Website.
Masks
Masks must now be worn at all times while indoors at school by:
Students in Grades 4-12
All staff
Adult volunteers and visitors
This requirement includes while seated/standing at desks or work stations.
Please remember to send a reusable mask with your child to school each day.
Exceptions
Masks are required to be worn unless:
A person is unable to wear a mask because they do not tolerate it (for health or behavioural reasons);
A person is unable to put on or remove a mask without the assistance of another person;
The mask is removed temporarily for the purposes of identifying the person wearing it;
The mask is removed temporarily to engage in an educational activity that cannot be performed while wearing a mask (e.g. actively playing a wind instrument, high-intensity physical activity, etc.);
A person is eating or drinking;
A person is behind a barrier;
A person is communicating to another person who has a disability or diverse ability (including but not limited to a hearing impairment), where visual cues, facial expressions and/or lip reading/movements are important.
On the school bus
Staff, adult volunteers and all Grades 4-12 students are required to wear a mask on the school bus.
Exceptions
The recommendation above should not apply as follows:
To a person who is unable to wear a mask because they do not tolerate it (for health or behavioural reasons);
To a person unable to put on or remove a mask without the assistance of another person;
If the mask is removed temporarily for the purposes of identifying the person wearing it; or
While eating or drinking.
Kindergarten to Grade 3 students
Primary students are encouraged to wear a mask at school and on buses, but are not required to do so.
Please remember to send a reusable mask with your child to school each day.
Implementing this new requirement
For some of our schools, mostly elementary schools, where students are not used to wearing masks indoors, staff will spend the next few days helping students to adjust to this change. Please have a conversation about these new guidelines with your children.
Places masks are not required
Students will be able to remove their masks while outside, including at recess, lunchtime and while learning outside. As the weather improves, teachers will continue to look for opportunities to move their classes outside.
Teachers will go through these updates and changes with your children and we encourage you to do the same at home.
Families and students can find up-to-date information about K-12 schools at: https://www.gov.bc.ca/safeschools
Thank you again for helping us adapt to these changes.
Sincerely,
Scott Stinson
Superintendent SD62
District Health and Safety update
A highlighted note from the district last week –
When picking up or dropping off your child, please wear a mask and maintain 2m from others. Please do not congregate in groups.
Sangster's drop off and pick areas are small.  We have staggered times and 3 locations for pick up to assist in having people not congregating or getting too close.
Respectfully, we ask our parents to not come to the school early for pick up and to wear a mask during pick up and drop off times.  Thank you for your support with this in keeping everyone safe.
Sangster Family virtual dance party
Get ready to dance!
This Thursday, March 11 from 6-8pm, DJ-Mr. Poynter will host a YouTube livestream DJ dance party for our Sangster students and families.  Unfortunately, we couldn't engage in our regular annual family dance this year, however we can do so 'together-virtually' in our homes.
Everyone can tune in here: https://youtu.be/BvHDTyU2VYU
Please complete the survey by Friday, March 12. 
If you would prefer to complete the survey via a hard copy (vs online), please let me know and we'll send a copy home with your child.
Many thanks for your time and input!
The survey ink for parents is https://sd62.limequery.com/555332?lang=en
Hello Families,
The Nature Kindergarten and French Immersion district online registration starts Monday, January 11, 2021.  The information sessions for Nature Kindergarten will be hosted on Thursday, January 7 from 6:30-7:30 and Saturday, January 9 from 11:00-12:00 – sessions will be virtual.  Attending an information session is the first requirement to register for Nature Kindergarten.  Please see further information at the link below:
https://www.sd62.bc.ca/schools/registration/nature-kindergarten
Sangster Elementary presents "The Fresh Staff of Sangster" debuting MC Rapper (DJ) Mr. Poynter.  This is dedicated to the students and families of Sangster Elementary School. We miss you, and we can't wait to welcome you back!  We hope you enjoy it as much as we enjoyed making it for you!